Training
Circular Globe offers a range of trainings to qualify people to develop and successfully implement circular economy projects within their organisations.
The modular structure of our seminars guarantees easy access. With the right mindset, anyone can undertake the next steps toward a circular economy.
For persons who are looking for a systematic qualification, both SQS and Quality Austria offer a certificate course granting graduates the title of "Circular Globe Transformation Coach".
What our customers are saying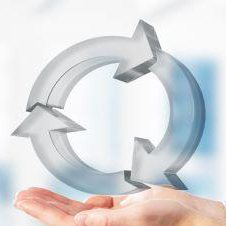 The seminars by Circular Globe are professionally designed and have broadened my personal horizon. The global challenges we face and possible interdependencies were looked at in a holistic manner. The presented tool box to cope with the coming challenges is practical and useful for all concerned topics. My opportunities and the necessity to make a contribution within my professional and personal environment have become clearer to me.

Robert Geyer,

Participant "Circular Globe Transformation Coach" Course